Details

package complimentary tour
Photo stop at the ancient location of the light house

According to cruise line schedules




No lunch
Mineral water during the tour is included

Comfortable clothing and , comfortable walking shoes are recommended.

The surfaces at both the library and museum are flat surfaces. A small flight of steps is required to enter the museum. There are flights of stairs connecting the three floors at the museum.

All transfers
Sites entry fees
Egyptologist tour guide


Optional & extra activities

Day tour in Alexandria (ALX 2)
Alexandrian Library, national Museum & Pompey's Pillar, the Roman Amphitheatre .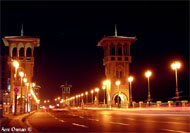 Tour details
Depart the pier for the drive to Alexandria's National Museum. The museum is housed in the old Al-Saad Bassili Pasha Palace which dates back to 1923. It is the first museum in Egypt that narrates the history of the people of Alexandria through antiquity, as opposed to being a building storing antiquities. Many of the artifacts within the museum's collection have not been exhibited before. Each of the museum's three floors depicts a different period of Egyptian history.
The Pharaonic collection spans each critical period, and includes items from the Old, Middle and New Kingdoms. One of the highlights is a replica of a tomb, similar to those in the Valley of the Kings on the West Bank at Luxor (ancient Thebes), that includes a mummy along with genuine funerary items. Alexandria was a Greco-Roman city of great splendor, and there is no scarcity of objects from this period including artifacts raised during underwater excavations around Alexandria in recent years.
The last floor is devoted to Coptic and Islamic items and includes a variety of objects from Egypt's two most prominent religious traditions. Coptic Christian items include icons of Jesus and the Virgin Mary and the Last Supper. Among the Islamic objects are a collection of gold and silver coins, decorated pottery, doors and mashrabiya windows inset with geometrical ivory ornamentation. There is also a section devoted to the former royal family of Egypt that includes magnificent jewelry, bejeweled gold and silver awards, and other items from their residence.
Next, your drive will continue on for a visit to the new Bibliotheca Alexandrina, built on or near the site of the ancient Library of Alexandria. Built at the beginning of the 3rd century BC, the ancient library was not only a repository of books; it was also a museum, school and the world's foremost center for learning and scholarly research. In the 4th century AD, a fire destroyed both the library and museum. Your tour will include a visit to the new library, and a walking tour of the grounds, which feature a museum, galleries and planetarium. Your guide will explain the architecture, background, development and UNESCO's part in the creation.
Next, you will visit Pompey's Pillar, an 88-foot red Aswan granite column with a circumference of 29 feet. Perhaps Alexandria's best-known ancient monument, Pompey's Pillar was constructed in honor of Emperor Diocletian in 293 A.D.
Your tour will conclude with a visit to the Roman Theater. Also referred to as the Roman Amphitheatre, the site dates to the 2nd century A.D. Unearthed during excavations in 1960, this well-preserved Roman Theater features galleries, sections of mosaic flooring and marble seating for up to 800 spectators. After the visit to the theater, you will be returned to the pier
Please note: this itinerary is flexible